By Elizabeth Saewyc
You've spent months on your research, but have only 10 minutes to present it to the world. Yikes! But, fear not! There are some easy, practical ways to make it memorable.
In a striking back-to-back comparison showcased in the video below, I give a standard 10-minute research talk riddled with features that characterize too many dry scientific presentations. You'll nod your head as you recognize them from your own and colleagues' past efforts. Then watch, as I transform the same material in a subsequent presentation that showcases the potential of strong science communication to bring research alive with a little preparation. And no, we're not talking about animating your slide deck. This is about the power of words to truly communicate research.
RESEARCH TOOLBOX; 10 Tips for a Dynamic 10-Minute Conference Presentation from UBC Nursing.
My top 10 tips are:
Aside from the "I have nothing to disclose" statement, don't start by thanking by name all the people on your first slide (your co-authors). Instead, say good morning or good afternoon, whichever is relevant, then start your presentation with a bit of dramatic statement – either the scope of the issue, something people don't normally think of, something that sounds contrary to what people normally believe but hints at your results, or at least makes it clear why this research was needed. It's a way of being compelling and catching attention, it projects confidence and draws people in. Not humour, though, that's hard to pull off.
The slides should illustrate your presentation points, not be your presentation. They should have no more than 3-4 points per slide, in phrases, not sentences, and no more than two lines per point (preferably one). Use bar charts or graphs or pictures where you can, with limited words.
Don't read the slides, make the points with slightly different words, and expand on them a bit.
Speak slowly, way, way slower than you think you need to – we will always talk faster during a public speaking situation, so it's important to speak slowly and clearly, especially since there will be people who have English as a second language in the audience, and are likely jet-lagged. Most of us speak at 120 words a minute, so that means, for a 10 minute presentation 1200 words max. Write out your script so that you have exactly those many words—the minute you digress, you run over time.
Don't be afraid to make a short statement with a bar chart or table on the slide, like "As you can see from this table, Southeast Asian girls reported poorer mental health than boys," and then fall silent for a bit, letting people absorb the info before you switch to the next slide (this can heighten the drama/attention, and makes you look very polished and confident–even if you're counting in your head how long to wait before you switch the slide and speak again!).
Never, ever say, "okay, I know you can't read this, but…" If it's unreadable, too many lines, too small font, or too busy a table or figure, do not include it. Come up with a different way to convey the key points, because the minute you apologize for your slide, you've lost them.
Avoid swooping transitions, nifty animations, cutesy cartoon graphics, and wild shifts of colour or font; anything that might make your audience seasick or dizzy won't win you respect or attention.
Remember to put in the "so what?" conclusion, or a concrete couple of clinical implications–or go back to your dramatic opening statement and bring it into the ending. If you've paced yourself with your 1200 words or fewer, you'll have time to give the final punchline of what we should do now, or what we know now, because of this work.
Say thank you! But don't say, "I'd like to thank my supervisor, my committee, my colleagues, my family, my carpool, my dog…" and don't mention the funding source, even if it's listed on your last slide as an acknowledgment. Leave it for people to read during questions.
Wear something bright red–a scarf, a tie, a blouse, a pocket handkerchief, a jacket, a dress; it draws the eye, enhances their alertness, and will help people find you afterwards to tell you what a fabulous job you did on your presentation, and what they liked about your study, or ask another question about it.
 About Elizabeth Saewyc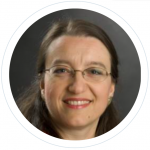 Elizabeth Saewyc, PhD, RN, FSASHM, FCAHS, is Professor and Associate Director of Research & Teaching Scholarship, and heads the Stigma and Resilience Among Vulnerable Youth Centre. http://www.saravyc.ubc.ca/